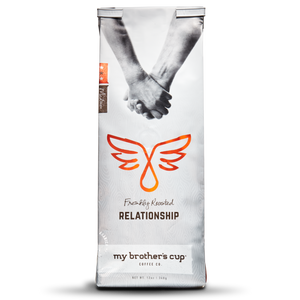 Relationship - EDOH
Regular price
$ 13.95
$ 0.00
Relationship blended beans taste better when you take a little time to grind, brew and drink them with someone a little different than yourself.
Why? Because these beans are from three different countries — Costa Rica, Papua New Guinea and Ethiopia — joined together into a smooth, almost sweet blend.
Just like in life, business and everything else, coffee is best when it works in relationship.
Medium Roast – Premium Arabica beans smooth as silk – unique blend "good anytime" to excite & ignite taste buds with deep, rich flavor

Set items in your order up to repeat!
Simply select the option to "Subscribe & Save" if you want an item to be automatically shipped on a particular interval of weeks or months. Each item you add to your cart can be set to recur whenever you want!
Why should I get a subscription?
Never run out of coffee
Convenient. Hassle free. No worries.
Cheaper. You get 10% OFF
How do I set up my subscription?
Go to your favorite coffee. Select "Subscribe & Save"
Choose how often you want it to be delivered
Select "Add To Cart"
Checkout and you're done!
Sit back and never worry about running out of coffee again
What if I want to change my subscription?
Login to your account and select update subscription.
Is there a contract or can I opt out anytime?
Our subscriptions do not have a contract. You can login to your account at any time and cancel your subscription.
What if I want to skip a (week/month) of my subscription? Can I do that?
Absolutely. When you login to your account, simply choose skip next order. 
---
Share this Product
---
More from this collection